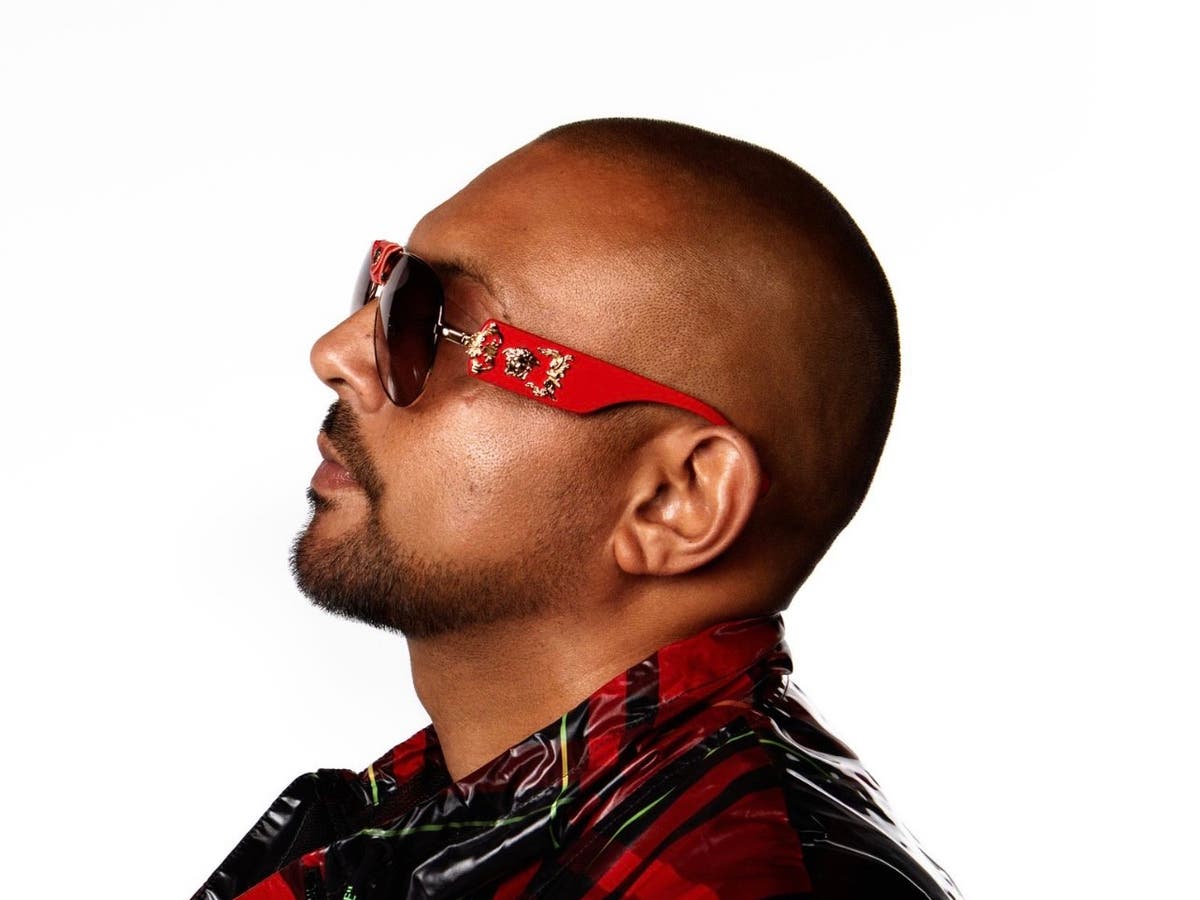 S.ean Paul hasn't left Jamaica in 18 months. In ordinary times, the ambassador for dancehall jets around the world enthusiastically encourages all of us to shake our things. But thanks to the pandemic, even an invitation to Cardi B's latest birthday party in Las Vegas couldn't get him off the island. "I thought to myself: 'Yo, I'm not traveling right now,'" says the 48-year-old, shaking his head. "That was a big decision, but I sent dubplates so at least essentially I was there and could say a happy birthday to her through the dubs."
While it may have been disappointing to miss this lavish celebration, Paul enjoyed spending more time than usual in his home country. However, he is worried about the future of the island. "I've seen climate change firsthand here," he says into his iPhone as he stands in front of his Kingston house, bright sunlight glistening in his chunky black sunglasses. "There are beaches I know that have receded 6 meters. In some places there is no sand, no more beach. "He tries to do what he can. He recently started funding a water fund that helps smallholders irrigate their crops during droughts. He likes to help the little guy. "In my experience, when something becomes too industrial, you lose quality," he says. "Also with music."
Paul has an alchemical knack for turning dancehall riddims into global hits, and this year, deprived of the ability to tour, he's rushed to make as much new music as possible. In March, he released Live N Livin, a record that celebrated the local scene and played exclusively with fellow Jamaican musicians including Buju Banton, Busy Signal and Jesse Royal. His next album, Scorcha, was originally due to be released in May, but has now been postponed until early next year, ostensibly due to difficulties in clearing the rights for the many international stars who will accompany Paul on the album. It's quite a guest list: Former No Doubt singer Gwen Stefani, LA rapper Ty Dolla Sign and British singer-songwriter Raye meet Jamaican music kings like Damian Marley and Stylo G. "Scorcha is more of an international approach to the To do the riddims and the songs, "Paul says of the difference between the two records. "It's still dancehall music, but I think it's more suited to the palate of my international audience."
To whet our appetite, Paul has just released "Dynamite", a feel-good dance floor filler that reunites him with the Australian pop Maven Sia. Most recently, they worked on a remix of their song "Cheap Thrills" in 2016, which rose to number one in 15 countries and has now been streamed more than 1.5 billion times on YouTube alone. It came at a happy time for Paul. He urgently needed a hit. He had been an international superstar since the breakthrough album Dutty Rock in 2002, but tastes had changed over the next decade and for a while it looked like Paul had been left behind. His 2014 album Full Frequency sold less than 5,000 copies in the United States, and he left his record label the following year. Performing on Sia's tune helped him regain his place at the top of pop, and this time Paul tries to repeat the trick with his own tune.
"This time it's more of my song," he explains. "She's on the hook and then it's my verse." He says the two always planned on chasing Cheap Thrills, and when he sent Sia a work in progress version of Dynamite, she immediately got back to tell him that he had another hit in his Hands. Kudos indeed from someone who knows a thing or two about how to light up the charts. "You know, beauty is in the eye of the beholder," says Paul with a laugh. "That's why I'm happy to have viewers like Sia close by."
As natural as he is on the microphone, as a child Paul's first love was swimming. Born in Kingston in 1973, he had master swimmers for his parents (Garth and Frances Henriques), and they made sure their son was always at home in the water. Paul went on to represent Jamaica in water polo, just like his father and grandfather before him. He argues that swimming boosted his creativity and vocal power. "Well, it made my lungs big!" he says with a laugh. "When I swim, it's like being in a trance. Your heart is flowing and your brain is constantly getting new oxygen and blood as you exercise, so, funnily enough, I think it helps. "
His parents also introduced young Paul to the music of reggae greats such as Bob Marley, Bunny Wailer and Toots and the Maytals. When his front man Toots Hibbert died in September 2020 after being infected with Covid, Paul felt it was a death in the family. "I cried over toots like a baby," he says. "He was one of my mother's favorite artists from the early sixties. She was always amazed and said: 'Look at his voice! Look how he holds his microphone far from his chest and you can still hear him amazingly! '"Paul later met Toots and says he regrets they never made music together. "When I saw him on tour in Europe, he always hugged me and said it [a wish] to make a song with me, "he says. "We never made it, that's why I cried. He's someone I really adored as a person. When you talked to him, you felt nothing but joy. "
I cried like a baby over Toots Hibbert
Sean Paul
In 1982, when Paul was nine years old, his father and another man crashed on a Cherokee Six "ganja plane" filled with 700 pounds of cannabis in the Florida Everglades. "It has had a terrible impact on my life," says Paul. "For two weeks we didn't know whether he was alive or dead. He was in the water in the Everglades at two in the morning. Eventually he was picked up by the Coast Guard and caught a case in the States. "Garth Henriques was deported back to Jamaica and jailed on unrelated charges shortly before Paul turned 13. He died in 2018.
A lifelong advocate of the positive properties of cannabis – many of his songs refer to it and celebrate it – Paul says that when he hears the global legalization of, he thinks of those like his father who have been criminalized for their involvement with the drug Cannabis hears. "Cannabis has been decriminalized here in Jamaica, but there are still an overwhelming number of people jailed for smoking a spliff or having an ounce bag," he said. "I've seen the same politicians, lawyers and doctors who keep saying, 'It's a crazy thing, it's going to drive you crazy, it's a gateway drug, don't do it,' now you turn around and say how useful it is is . Politicians take money from big business people and drive away the real farmers who grew the good stuff. "With a smile, he returns to his earlier point about degrading industrial-scale production. "For me, pharmacies are a good thing," he says, "but almost all of their weed tastes like cardboard."
Enjoy unlimited access to 70 million ad-free songs and podcasts with Amazon Music. Sign up now for a free 30-day trial
Register
He adds that he is getting into the legal cannabis business himself and believes he has discovered a niche in the market: healthy edibles. "Edibles can help a lot when a person can't smoke, but if that person has diabetes, those edibles will kill them because they're full of sugar!" he clarifies. "I'm in the process of making edibles that are healthier, and right now I'm also developing my own smoke that people can enjoy."
Sean Paul in the artwork for his new album
(Press picture)
After his father went to jail, Paul filled his life with water polo. He played on the Jamaican national team until he was 21 and traveled to Trinidad, Barbados and the Bahamas, as well as the United States and Mexico. Everywhere he went he heard Jamaican dancehall. "I didn't hear it on the radio, but every time I went to the clubs, I heard our music there," he recalls. "I realized it was a huge international underground music scene, but when I first started I just wanted to make songs that Jamaicans would love."
Paul started MCing at the age of 21 and performed at local BBQs and small parties in Kingston. "It was late in terms of the people making music in Jamaica," he says. "A lot of people start making DJs and dancehall music as teenagers. I didn't get accepted until I was 24. "He made up for his late start by learning quickly. He hung around in studios, gaining as much knowledge as possible and released his debut album Stage One in 2000, at the age of 27. "That was good," he recalls. "And then we did Dutty Rock … which blew me up all over the world!"
Dutty Rock, released in November 2002, produced a breathtaking series of world hits including "Get Busy", "Gimme The Light", "Like Glue" and "I'm Still In Love With You". These were songs that combined the wild energy of dance hall into familiar pop structures, all crowned by Paul's unmistakable vocals. You know a Sean Paul tune the moment you hear it. At the same time, he had another big hit while working with Blu Cantrell on "Breathe" and was suddenly so in demand that Beyoncé flew him to Miami in March 2003 to add a verse to her tune "Baby Boy" to another chart topper.
It was the hottest of all the hot streaks, and when Paul brought it up, his hits just seemed to flow apart. Dance floor filler "Like Glue", for example, began as a short intro for "Gimme The Light". "I remember being in a hotel room in Boston, smoking, and thinking, 'I need to find a new intro for Gimme The Light," says Paul. "I made this hook up, then I went to the studio at home and producer Tony Kelly said, 'Yo, I have this big riddim, I'll let you hear it.' As he played it, the melody I was singing came to mind and it just worked on the riddim. Something like that doesn't happen all the time, so it's a great feeling when you have something and it just fits together perfectly and really works. "
While touring with his water polo team, he knew dancehall could be popular around the world, but nothing prepared him for how the world embraced Sean Paul and his music. "I didn't think I would be what I am today, but I embraced it when it started," he says. The role of international ambassador for dancehall suited him very well. "I've started to take on the mindset that I'm responsible for the music, and when you get that opportunity, you really have to intensify it." That evil grin is back. "So I did."
"Dynamite" by Sean Paul feat. Sia is out now