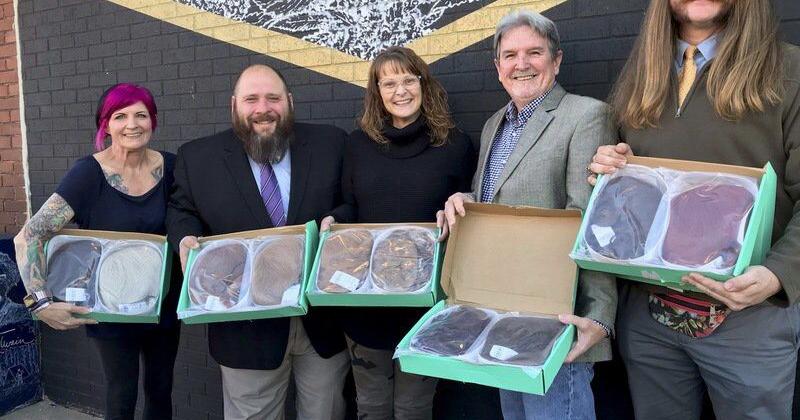 A local cannabis company and a McAlester law firm have teamed up to hopefully make things a little better for children who are experiencing hair loss from medical treatments or medical conditions.
Buds Craft Cannabis Co. in downtown McAlester and members of the Wagner & Lynch law firm each donated $ 500 to purchase 10 child wigs that were donated to The Wig Closet.
Ashley Lerblance of The Wig Closet stopped by to collect donations. She plans to distribute the wigs as needed.
"It's wonderful when we have the support of our community," said Lerblance. "Having these kids' wigs is going to be a game changer."
Lerblance is the founder of The Wig Closet at the McAlester Regional Health Center. She donates wigs for free to those in need of them due to hair loss that can be caused by chemotherapy or other medical treatments.
McAlester attorney Brecken Wagner said he and fellow lawyer Blake Lynch were happy to help the community. He said they decided to help with the donations after having had some conversations about the matter and they wanted to help in that way for several reasons.
"Two things," said Wagner. "It helps our local community and it helps young children."
Children and adults can also lose hair from certain medical treatments or conditions, including in response to chemotherapy, when they are undergoing cancer treatment.
Hair loss can also be due to a condition known as alopecia, which can occur when a person's immune system mistakenly detects that hair follicles are foreign objects and starts attacks against them.
Lerblance said she would like to donate wigs to children for both reasons. Wigs especially for girls and boys are available.
Renee Malcolm and James Monks of Buds Craft Cannabis Co. on E. Choctaw Ave. 306 said they would like to help.
"Every month we donate somewhere," said Monks.
Malcolm said she was glad Buds can help that way.
"I think it's fantastic," she said. "James has great ideas for helping the community."
McAlester Mayor John Browne stopped by to see the wig donation. Wearing a wig when needed can help a child feel more confident, he said.
"I'm proud to be the mayor of a town that has businesses like Buds and Wagner and Lynch," said Browne. "You do this without asking for anything in return. It's great when it benefits something as important as The Wig Closet. "
Contact James Beaty at jbeaty@mcalesternews.com.