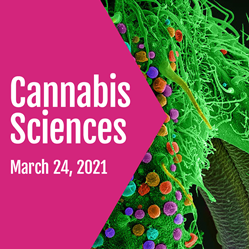 YORBA LINDA, California (PRWEB)
March 18, 2021
LabRoots, the leading scientific social networking site offering world-class interactive virtual events and webinars, is proud to announce the remarkable array of speakers for the Cannabis Sciences virtual event taking place on March 24th, 2021. During this one-day virtual symposium, thousands of people will have cannabis industry experts, researchers, instrument makers, medical professionals and leading scientists from around the world will hear over twenty lectures from renowned speakers addressing a wide range of cannabis science.
In line with the conference theme "Cannabis and Hemp in 2021: Looking to the Global Future", six different sessions are on the agenda, providing participants with informative content presented by cannabis experts and the latest technologies and advances in the field to introduce. Key topics include: Medical cannabis: Therapeutic updates, quality and control methods, regulatory landscape, evolving laboratory landscape and testing, hemp and cannabis science, and advances in cultivation and extraction methods and technologies.
To kick off the one-day program, three keynote deliveries begin with a presentation entitled "Medical cannabis for children" by Dr. Bonni Goldstein, Medical Director of the Canna-Centers Wellness & Education, in the role of the endocannabinoid system in pediatric epilepsy and autism.
"As a pediatrician who specializes in treating children with cannabinoid drugs for conditions ranging from difficult-to-treat epilepsy to autism, I've seen incredible results including reducing seizures, eliminating self-harming behaviors, and one decreased aggression, "said Dr. Bonni Goldstein, Medical Director, Canna Centers Wellness & Education. "Contrary to what we have been taught about the harmful effects of cannabis, I also see that many of these children are progressing in their development. The quality of life that medical cannabis treatment can restore to these families continues to surprise me. In my LabRoots talk, I will discuss the latest research on cannabinoid therapeutics for these disorders and share my clinical experience with treating this particular population, "added Goldstein.
Afterwards, Dr. Susan Audino, Independent Consultant, Science Advisor at AOAC International CASP, helping attendees understand LIMS is a tool and role of LIMS in quality control as she talks about LIMS for the cannabis industry – from seeds to sales. In addition, Dr. Uma Dhanabalan, Founder / CEO of Global Heath & Hygiene Solutions, speaking in her keynote presentation about cannabis, The Global Solution and the role of cannabis in medical and industrial products for global solutions and the difference between hemp and marijuana.
The whole day will be thought-provoking discussions like letter soup – quality, technical and statistical considerations for cannabis tests, method development for cannabis potency tests, clinical use of the cannabinoids with case reports, current test determinations in the cannabis industry, effects include from AOAC for cannabis laboratories and laboratory validation, effects of the Final USDA Rule on Hemp for Third Party Testing Laboratories, Medical Marijuana, and CBD: Expanding Acceptance and Use by Physicians, and Developing a Comprehensive Terpene Analysis Method Using Mass Spectrometry, and More.
Kent Crowley, Chair of the Planning Committee, added, "For the fourth year in a row, LabRoots has put together another fabulous cannabis state-of-the-art program. Come to us and learn from the experts in this cannabis room. "
"We are excited to bring the best minds in the cannabis industry together under one virtual roof through our education platform," said Greg Cruikshank, chief executive officer of LabRoots. "For the fourth year in a row, our ongoing goal of delivering the latest discoveries and showcasing breakthrough technologies in full will be to examine emerging topics and scientific data to improve cannabis science and its medical benefits for patients in need to promote. "
In addition to the speakers, the interactive environment, when connected from all desktop and mobile devices, offers a one-stop collaboration with a lobby, auditorium, exhibition hall (to demonstrate techniques and highlight the latest products and technologies), poster hall and networking Lounge Providing an enriched learning experience for all participants. By participating in this event, advanced training points (1 per presentation) can be earned for a maximum of 40 points.
For more information or to register for the event, click here. Use #LRcannabis to keep track of the conversation!
About LabRoots

LabRoots is the premier science social networking site and the primary source for trending science news and world-class virtual education events, webinars, and more. LabRoots helps advance science through content sharing capabilities and is a strong advocate for expanding global networks and communities. LabRoots was founded in 2008 and values ​​digital innovation in scientific collaboration and learning. LabRoots users offer more than just articles and webcasts that go beyond the mundane and explore the latest discoveries in the world of science. By attending webinars and virtual events, LabRoots users can stay in their field by earning educational credits on a wide variety of topics.
Share articles on social media or via email: